15 June, 2010
One of the reasons I really enjoy offline (board and card) games is because they offer a lot of great opportunities for game design. There's nothing quite like chewing over a game's mechanics while playing with friends. It's a fun exercise to think about how to turn an interesting board game mechanic into something that would work for the design of an online game.
Offline games are also a great opportunity to tweak the rules to try to make them better. Perhaps you want to make a game harder, or easier, or just want a different experience after playing the game for the hundredth time with friends. If you can find a group willing to experiment, offline games are a great opportunity to practice game design and talk it over with other interested people.
Let me talk about some of the variant rules I've been playing with in games.

One game that a friend got for me recently was Arkham Horror, a cooperative board game based on the work of H.P. Lovecraft. One thing I really like about this game is that it is cooperative, meaning that the players win or lose as a whole. The incentive to screw your buddy for a few more points isn't there.
One problem we had was that the game seemed a bit too frantic. That makes sense given the horror nature of the game, but the pace really didn't allow us to explore the game out. It seemed we were either running to/from monsters, focusing on portals, or running to safety in order to heal our characters. So, we've played around with rules to slow the pace down. One problem is that if the pace slows down too much, then the game loses the challenge that also makes it appealing. The alternate rule we've come up with is that we get a number of rounds to start before portals start opening up. That allows us to have a few adventures around town before we get occupied with monsters and portals to other dimensions. It makes some narrative sense, too: the investigators get a bit of time to poke around town before the stuff hits the fan.
Another game we love is Apples to Apples. For those not familiar with the game, you have red cards with nouns in your hand and green cards with adjectives played one per round. One person judges while the others throw down cards trying to get the judge to pick theirs. Cards are thrown in face down to try to reduce favoritism. It's a pretty funny game, especially if you have demented friends like I do. It's not unusual for the red card "Pond Scum" to win when the green card is something like "Misunderstood".
The problem we encountered is that if there are only three people who want to play, that's not very exciting. One judge getting two cards doesn't have much choice. So, in times like this we add another player: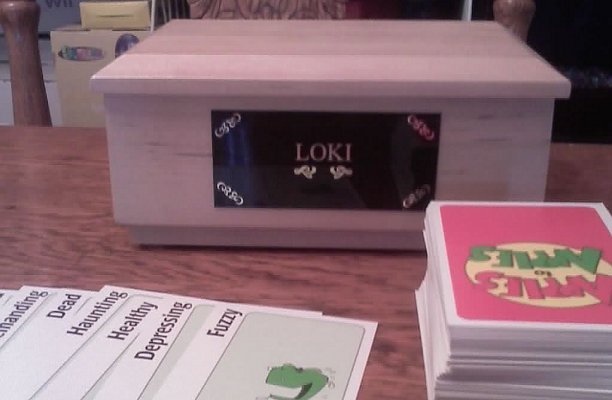 Yes, those are the ashes of my cat who passed away. We sometimes use one of the other cat's ashes, though. Okay, yeah, it's a bit macabre, but it's really funny when he wins the right cards. Or, if the cat's red card is something like "milk" or "mice".
How it works is that we throw in an extra red card from his pile to the mix. The judge then has three cards to pick from instead of two, making it a bit more interesting. If the judge picks a card nobody claims, then it goes to the cat.
The funny thing is… the cat ashes keep winning the games when we do that. Perhaps it's a sign of the good design that went into the cards. Or, it could be that the humans are over-thinking their cards they throw in. Or, perhaps, we gravitate toward the most oddball card, and the random card tends to be pretty off-the-wall. At any rate, it adds a bit more demented humor to the game.
So, what about you? Do you have any offline game variations that you really enjoy?
---
---
20 Comments »
Leave a comment