28 July, 2006
I've posted this up in other places, but let me explain why DIKU-style games (e.g., EQ and WoW) dominate and why PvP games are doomed to failure. It's actually very simple once you think about it, and the theories come from the respected Dr. Richard Bartle.
Read on for more insight.

You need to reference Bartle's landmark paper Players Who Suit MUDs. Let us set aside the arguments about whether this is the best measurement for players or not: it exists and it matches the experiences of experienced game developers to a high degree. I'm aware of Nick Yee's fine work on motivations, but he hasn't worked out as many theories as Bartle has. (Plus, I slightly mistrust this assertion that Explorers don't exist, I'll explain that in a minute.)
The part we're interested for this post is a summary of the interactions between the four major types. Here is a graphic: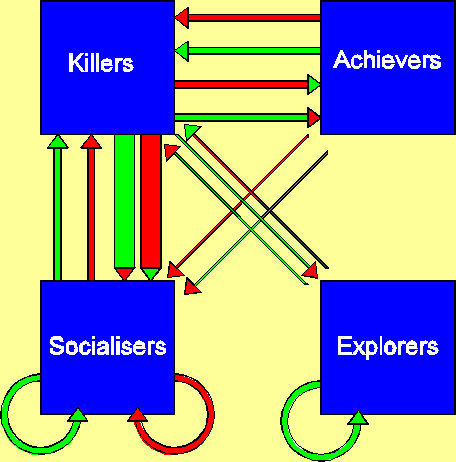 (Click on the graphic to go to the original paper.)
(Personal to Richard: Yes, I know you have the newer 8 archetype model that adds another axis. Unfortunately, you don't have complete information about how those interact. Or, at least, I don't remember it. ;) You should have considered human memory: it's easier to keep 4 things in memory rather than 8. Sorry, your new model was doomed from the start….)
The arrows indicate how each group affects the other. A green indicates growth and red means a decrease. The shaft color indicates the cause, as expressed by a change from the originating box. The arrow head indicates the effect as change to the box being pointed to. The thickness of the shaft indicates the size of the change. So, for example, the top arrow between Achievers and Killers signifies that a drop in Achievers causes a moderate drop in Killers.
Now, take a look at that graph. Consider that most of the larger games focus largely on Acheivers. Increasing focus on Achiever-style gameplay results in: an increase in Killers and a potentially slight decrease in Socializers. This matches what we've seen in these types of games: socialization has taken a back-seat to achievement, and there are always griefers in the game to disrupt the sheep, er, Achievers. Of course, most developers believe griefers are something to be eliminated, so we try to eliminate the Killers, which leads to an increase in Achievers and a HUGE increase in Socializers. Socializers are self-reinforcing, so that increases the Socializer population Thus a game focusing on Achievers can easily attract them (and Socializers) by limiting the number of Killers. Therefore, a game which focuses on Achievement and restricts the Killers will have a large population of of Achievers and Socializers, leading to high subscription rates.
As a side note, I think you could argue that one of the flaws in Bartle's theories has come about with the large, modern games: a limit to the absolute number of people interested in Killer type gameplay. I think that there is a vastly large number of Achievers interested in online games than their are Killers. So, even if you have the biggest Achiever game ever, there is a hard upper limit to the number of Killers you'll find in the game even without policies to discourage them.
But, let's look at what Bartle says about catering extensively to Achievers:
Tilting a MUD towards achievers would make it obsessed with gameplay. Players would spend their time looking for tactics to improve their position, and the presence of other players would become unnecessary. The result would be effectively a single-player adventure game (SUD?).
Rather interesting when you consider the trend toward making our games more solo-friendly. WoW lead the charge on this, showing that a single-player game with other people present (someone has to appreciate the status you've accumulated) is the Achiever heaven.
Now, let's look at what happens when you make your game PvP-focused: the primary effect is that the Killer population increases significantly. What does that do to the other populations? Well, it decreases the Achiever population, and nearly decimates the Socializer population. It can also decrease the Explorer population. Again, note that Socializers have reinforcing feedback loops and that a large decrease in Socializers will tend to send that segment of the population into a tailspin. Frankly, this is what we have seen with just about ever PvP-focused game: the killers move in and most other people move out. Eventually a lack of Achievers as targets will drive away the Killers, leaving pretty much nobody playing.
What does Bartle say about catering extensively to Killers?
Tilting towards killers is more difficult, because this type of player is parasitic on the other three types. The emphasis on causing grief has to be sacrificed in favour of the thrill of the chase, and bolstered by the use of quick-thinking and skill to overcome adversity in clever (but violent) ways. In other words, this becomes an arcade ("shoot 'em up") type of game.
Again, we see Bartle being correct, as most PvP fans seem to want these online RPGs to become more like typical shooters: less investment, less "building", more going out there and demolishing people. He also seems to support my assertion that a game catering to Killers will tend towards low populations since the Killers need the other types to prey upon.
Now, let me digress a bit and talk about Explorers. Another big flaw in Bartle's theories it that explorers have another factor: time. As a game ages, there's less unknown to explore and find. In modern online RPGs, the role of the explorer has been reduced to exploring mechanics. Most of the content is explored very rapidly by intrepid Achievers (with a bent on Exploring) and cataloged very efficiently by various information sites about the game. These sites fulfill the traditional role of the explorer in old text MUDs where they would share morsels of information and know secrets the Achievers wanted to know. I think it would be hard to have a game that caters to Explorers, because they would consume content at a rate that makes Achievers seem laid back.
Now, don't think that I'm happy about this situation. I love PvP-focused games, but there is the undeniable trend that they tend to launch, do okay, then fall flat. These games have fallen out of favor, with older classics like M59 and UO either fading to obscurity or radically redefining the game (Trammel, anyone?) in order to survive. But, it is grim reality that PvP games tend not to be as popular for as long a time as Achievement-based games. When you're pouring money into a business, this is a hard reality to ignore.
So, what do you think? Do you agree with two of the brightest minds in online game development? ;) Or, do you think Dr. Bartle and I are out of touch with reality?
---
---
16 Comments »
Leave a comment