2 August, 2019
So, what all have I been up to since I last posted a while back? Besides the Streaming Podcast, I've had a few things on my plate.
Read on for details!

Work, work!
On the professional front, I've been hard at work on… *drumroll* A secret project I can't talk about! A good friend of mine got me involved in a project he's passionate about, and I proposed an idea that he found really appealing. I'll say this much, it has elements of a lot of things I love: board games, computer games, tabletop RPGs, and MMOs. It's got a lot of familiar elements mixed up into something that's pretty new. Exciting to work on! But also a bit harrowing doing something so new.
The current plan is to show this off on Kickstarter to get interest once we have something meaningful to show. So keep watching here for announcements sometime in the future!
And play!
On the entertainment front, I've been having fun with all sorts of games. I've gotten into a group playing Gloomhaven, a very fun but very complex board game that has elements of computer RPGs. It's a "legacy" game, meaning you can change the game as you go along. Lots of fun, but it eats up time! And as adults, we don't always have time to gather together.
I'm still playing DDO in my free time, once a week (usually!) with two static groups. I still enjoy the game, although it feels more like a socialization thing than really playing the game to play the game. But, hey, that's the strength of the free-to-play model! I can play the game with friends and not feel pressured to keep paying a subscription.
And roleplay!
So, I'm still playing Final Fantasy XIV but I made a little change. The game recently had a bit shake-up where they redistributed the servers from 2 "data centers" to 3. I had friends on another server and the FC was undergoing a lot of changes, so I moved him from my original server over to an RP server. And thus, Psychotic Reliquary (which is a mostly lore-abiding name!) was revealed to the world: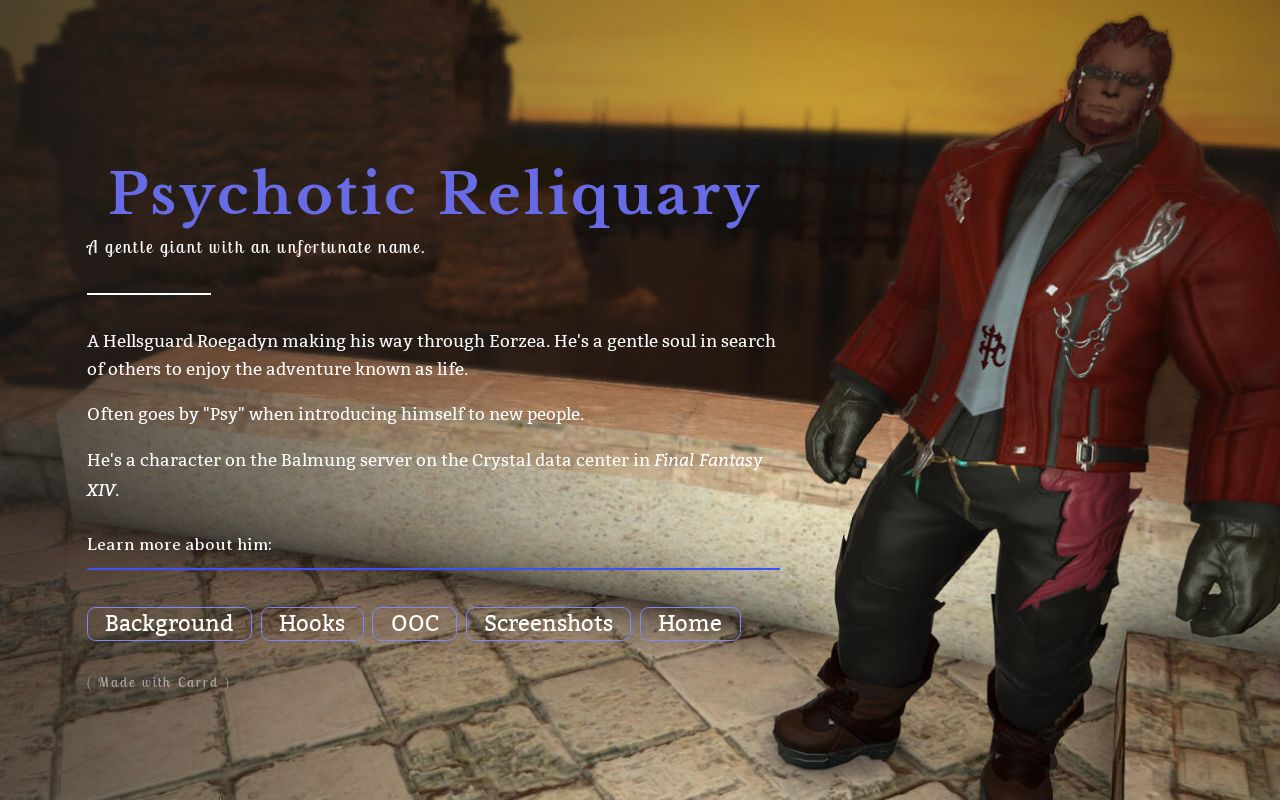 He's on the Balmung server, but with server visiting you can meet him on any of the servers on the Crystal datacenter! Right now I'm working to get all his classes maxed again.
I'm quite enjoying the new expansion, a really good story even if it's tough to incorporate a lot of the new stuff into RP since it involves being the "chosen one" who can break all the rules.
And this new interest in RP is one reason why I think I might post about RP this month! So get ready to hear my thoughts as both a player and a developer!
---
---
No Comments »
Leave a comment