22 January, 2017
I made a very good friend in FFXIV last month. She started playing the game with a few friends and happened to see my showy, yet simple, tank glamour. We started talking and she admitted she was a big fan of setting her appearance in MMOs. She was very fond of her WoW transmogs.
Since I'm a crafter, that meant I got a lot of new requests for crafting stuff. Which is fine, as I really like helping out my friends. But, it also got me thinking a bit about appearance systems in games. Let's take a closer look, shall we?

All the images in this post are thumbnails, click for the full size if you want to see more detail.
Catching attention
I wasn't really that much into the glamour system in FFXIV. Prior to a recent patch, it was a bit of a mess with different grades of items needed for different levels of gear, and the levels changed with the expansion. Luckily they simplified the system, eliminating the different grades. But, there were some things so hideous I had to hide them. I showed a few pieces in my Pictures from Final Fantasy post.
I had settled on a relatively simple glamour for my character. There's a FATE where you fight the primal Odin, and you can get pieces of his armor as a reward. There are two pieces: the helmet and the chest that covers all the body. A simple glamour, and it looks very intimidating on my Roegadyn.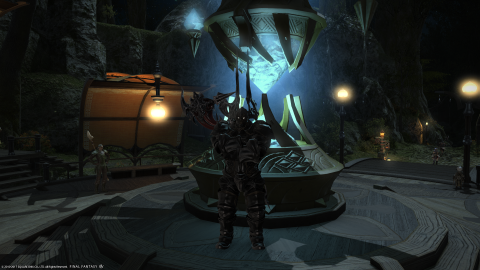 It stands out in the crowd because it's pretty imposing. Roegadyn are already tall, and the prongs on the helmet make me even taller. It was enough to make my new friend take notice, at least!
Looking good
It's easy to see why appearance systems are so popular. This is the ultimate example of character customization, allowing the player to make the character look exactly as they want. Character customization has always been a big part of MMOs, allowing a player to make a distinctive character. Yet, how is that character distinctive if it's hidden behind armor that everyone else is wearing?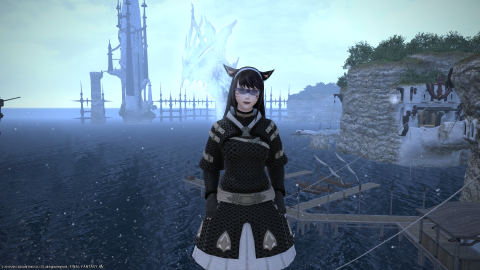 The other good thing is that it gives the developers more freedom as well. The developers can include rather unusual armor without worrying too much about how it will make the character appear. You can give skimpy armor for male characters and they can either grin and bear it or swap out for something less revealing if they want. FFXIV in particular has a lot of armor that someone, somewhere may like, but that players aren't stuck with if they don't want to be.
On the other hand, it gives people who do want to look silly or sexy the opportunity to do so. They can dress in a revealing outfit if they want. Or they can dress insensible armor if that is their preference. The player can choose the clothing that matches their own personal idea of what their character should look like, if given enough options.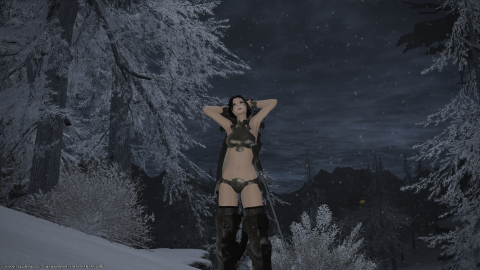 Generally appearance systems appeal to more social players, but not exclusively. Showing off a nice appearance set gets you noticed and will get people talking. Achievers also like appearance systems because they can show off past glories easier, especially as new content replaces hard-to-get gear from previous content. Killers are likely to be the least impressed, especially as it may obscure information useful for them to figure out how to exploit someone else.
Appearance mechanics
Let's take a quick look at different appearance options in games. First, we'll take a look at how appearance is set.
The original form was Nothing In Meridian 59, for example, your character looked like whatever the item was that you equipped. Admins could "cheat" a bit and swap around different appearances, but that required a minimal amount of knowledge of the underlying programming system. For the most part and without administrator intervention, the piece of equipment looked like it always did. This is a useful system for a PvP game, where information about your opponent is necessary to decide tactics. What you see is what you get, and being able to identify others at a glance is useful when fighting against players.
The second is item slots, as seen in LotRO and EQ2. In this system, your character has two slots: one for actual gear and one for an appearance for that slot. An empty appearance slot simply means that the actual item is used instead. This is a super convenient system where the player has a lot of control. LotRO even had different sets of gear you could use, and you can see a few of my dwarf's sets in my post about the game. The downside is that the slots could be used for extra storage, bypassing inventory limitations set by game design. But, really, that's a pretty minor complaint.
Note that DDO uses a variation of this, but they have a lot less appearance customization in the game; the main armor determines your appearance, and there is a slot for a cosmetic item. But if you remember, the same armor appearance looks different on different genders. You could also say that TSO has this type of system, although the clothing has no stats, only your talismans are the important stat-giving part; the same is true for EVE as well.
The third and final major system is transmogrification. In this system, a piece of gear is given the appearance of another piece of gear. WoW (where I stole the term from), GW2, and FFXIV all use this system. In these games you replace the appearance of a piece of equipment with another, and that change persists to the equipment until change or removed. The advantage of this is that you can change what appearance is placed on which object; for example in WoW, plate can only be transmogrified with another plate item, so plate will always look like plate… as much as it ever does in WoW. The other advantage is that you can assign a cost to this easily enough that people will accept. The downside is that it's not very flexible.
There are a few details to implementation that are important to consider, too.
There's a question about if the system should store the appearance vs. requiring the player to store the item to re-apply an appearance. LotRO, for example, has a wardrobe that will store the appearance of an item. You can "clone" an appearance type item to put into the appearance slot, but you don't have to keep the original item. FFXIV, by contrast, requires that you store the item somewhere if you want to use the appearance again.
There is also the question of cost of appearance. In general, the item slots systems don't require a cost for appearance, although some additional perks may cost more. LotRO let you buy extra appearance tabs and extra storage in your wardrobe for appearances. DDO's appearance items are mostly sold through the store, even an item to duplicate an existing armor's appearance to turn into a cosmetic item. Transmogrification systems, however, tend to have some cost. In WoW you gotta pay an NPC, in FFXIV it requires a "glamour prism" to change the item's appearance. But, there's nothing to say that the designs couldn't be swapped.
What is the right appearance system?
When designing a system, you really have to consider a few different points:
What makes sense to the player? You probably want to copy an existing system unless your new system is really easy to use. People coming into your game from other games will expect a similar system, unless there is some clear advantage to the system.
What appearances are given as rewards? In many games you get some special appearance items in the game. For example, in FFXIV it is common for you to get items that have a distinctive appearance of a NPC after certain quests. In one part you get a shield from a main NPC as a token of remembrance. Lots of Paladins who carry shields use the appearance for a bit.
Where do appearances come from? FFXIV does pretty good at having a variety of sources for appearances. Many items are crafted, some are drops, some are purchased the "optional items" (read: cash shop) store, and some come from quests. A good game should provide a lot of options to give people who really like glamours the chance to explore a bit to find all the options. Just be careful not to put all the best options in the cash shop.
Summing it up
Appearance systems add another dimension to the game. Even as people chase gear, some people will also want to find a good look that shows off their individual style. There's a saying in the FFXIV community…
Glamour is the real endgame#FFXIV pic.twitter.com/lbLcQ3kQxZ

— FFXIV Memes (@FFXIV_Memes) December 31, 2016
In modern MMOs the gear treadmill is pretty fast. In FFXIV, you replace your gear every few months when there's a patch. Without glamours, your appearance doesn't persist long. So, glamour provides a bit of stability for some, or an opportunity to play around with appearances for others.
As I said above, I'm not much into glamours myself. But, my friend was really enthusiastic. So much so that she picked out a new glamour for my tank class:
What do you think about appearance systems? Do they add to the game you're playing? Or are they something you can kind of ignore?
---
---
7 Comments »
Leave a comment