1 April, 2016
I like to think that I have my hand solidly on the pulse of what is hot in gaming. So I says to myself, "Self, what is hot right now?"
The answer may surprise you!

Looking around (i.e. reading some random game news site) I saw that virtual reality (VR) gets talked about a lot. Everyone seems excited about VR. Investors are writing stupid checks for VR, which means it can't possibly fail. VR will be bigger than the Apple Lisa, WebTV, or VR v1.0 back in the 90s.

Look how exciting that is! (Click image for source.)
Looking around a bit more (i.e. looking at my Steam library), I see that retro pixel games are all the rage. There's Shovel Knight and, uh… Super Meat Boy and… well, there's just a lot of them, okay?
What two tastes go great together?
But, I want the full retro experience. None of this flimsy stuff made of cardboard. Real VR sets have heft and weight!

Don't let anyone fool you, neck strain is part of the full experience. (Click image for source.)
So, I was thinking of adding some barbells to a Vive. That should work for a prototype.
I think there's a lot to be said for totally new game experiences we can have with VR. I mean, think of all the looking around simulators one could create! Or, maybe other games if the controllers are somewhat standardized and not too cumbersome.
Here's some concept art from a game I was thinking about: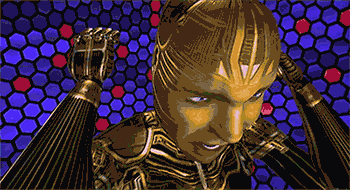 Not sure what to call it, but I'm thinking about something related to lawn care for some reason.
Anyway, this is the start of an incredible journey! I'm sure VR is the entire future of gaming, just like the MMOs were.
Now, if you'll excuse me, I'm off to prepare a Kickstarter campaign.
EDIT: Damn damn damn! Someone beat me to the punch. Well, maybe they're hiring?
---
---
1 Comment »
Leave a comment