1 May, 2014
This is a personal post. I need a little help from my friends and followers.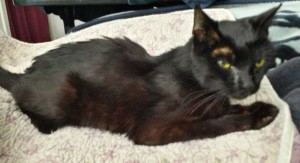 (Click the image to see a larger one.)
This is Susano. He's one of my black domestic shorthair cats. You might be able to tell from yellowed skin in the photo that he's jaundiced. Susano has been diagnosed with a liver problem. He has lost his previously voracious appetite and now weights a mere 5 pounds 6 ounces.
Susano was found as a stray in Iowa. He was a friendly kitten, willing to come up and get food from any stranger. I brought him inside to keep him safe. He wasn't overly fond of our other cats, but he learned to fit in. We named him after the Shinto god Susanoo; all our cats have names of deities.
If you've read my blog for some time, you know my cats are precious to me. I have a soft spot for the little guys, and I'm very much one that treats them like good friends and family. I feel a bit more obligation to Susano, since I did choose to bring him into our home.
He fell ill pretty suddenly a few weeks ago. It started with an uncharacteristic lack of appetite and then he started dropping weight. Normally he was always begging/stealing/waiting for food. We took him to the vet, and the test results came back showing a liver problem. We were prescribed various medicines, including Vitamin K, Vitamin B mixed in with a bag of fluids we administer subcutaneously (via a needle under the skin), milk thistle, and SAM-e. We're also feeding him some prescription food to try to put some weight on him.
I'm not giving up on him yet. He's a small slip of a cat, but he's still active despite his lost appetite. He's not showing the usual signs of being ready to leave this life, so I want to fight as long as he is. Unfortunately, this costs us money.
The vet bills and medicines have put some strain on us. Normally this would be something we would handle; we would just use credit cards and pay it off when we can. But, my significant other and I are about to do a major move soon from the California to the East Coast. We'd like to do what we can to make him better before we have to make the move.
I enabled a plugin on this blog as a way for you to help. The money raised will go toward bills and medicines, and other expenses Susano needs.
Thank you for your help and generosity. I appreciate it.
Update: Unfortunately, Susano did not get better. I posted about my appreciation for the community. The generous gifts and kind words gave me the peace of mind that let me know I did the best I could for my friend. Please accept a heartfelt thanks to everyone who helped in any way.
I will not easily forget your generosity, and I will continue to share that kindness with others.
---
---
6 Comments »
Leave a comment