29 July, 2013
It's been a busy few weeks. I'm chugging along on a project I'm not quite ready to talk about yet. During my free time, I've been indulging in Borderlands 2. Of course, I'll try to pretend that playing the game is an important reason for doing a blog post. ;) As I've been playing, two things have stuck out: how unreliable memory is and what makes a good loot system.
Let's take a look at these two elements in more detail.

Let's do a quick review of the game itself first.
What I think of Borderlands 2
If you're not familiar with the Borderlands games, let me summarize. It's a somewhat open-world FPS. But, they added random loot like you find in Diablo (including different rarities and named items) along with MMO type quests. This means that it touches a lot of areas that make up for compelling gameplay.
The setting is arguably low-tech Sci-Fi. You're on a different planet, but you're still dealing with guns, bullets, and melee weapons. Pandora, the planet you're on, feels very much like the frontier planets you see on TV shows and movies. You get hints of higher technology: the ability to automatically create a car from thin air at certain stations, and the "New-U" stations that explain how you can respawn.
Personally, I really enjoyed the first game. It had a good blend of action and (often dark) humor. The visual style was appealing and fairly original for FPSes; although the game's style was going to be more photorealistic originally. I think this change in style helped the game get the right level of humor, as the humor felt intentional rather than slapstick. The storyline takes a backseat to shooting things up.
Borderlands 2 builds from the first game, but it's not obvious at first. Eventually you see some major characters from the first game make appearances, and the storyline refers to the previous game heavily. The fact that there is a stronger storyline is telling, as the story in the first game felt pretty thin. If you played the first game, your memory will be tickled by a few familiar locations and references to the original game, but it doesn't feel like you have to have played the first game to appreciate the second.
Overall, I find the second game a bit less satisfying. The feeling is that Borderlands 2 felt the need to be bigger and better, adding more and more and trying too hard. The understated elements of the first game, such as the story, come to the forefront in the sequel and demand more attention. The humor goes a bit more over-the-top, and goes for more cheap gags often making the humor feel forced. For example, the original game had faceless corporate weapons manufacturers which gave different flavors to the gear you could get. I took the manufacturers as a commentary on gun runners and profiteers; the companies were all too willing to give weapons to people to let them blow the hell out of each other as long as they profited. In Borderlands 2, they give each manufacturer a very unique feel to their equipment. They also focused on some of the personalities behind these companies, removing the "faceless corporation" aspect. In fact, one of the corporate CEOs is the focus of one of the DLC expansions, presenting him as a badass, hyper-macho (if clueless) guy. It felt like they sacrificed a bit of the commentary for a laugh.
While I enjoyed the game, it still has some problems. The biggest problem is some lingering UI bugs, at least in the PC version. There's a bug where the scrolling in the inventory can get out of sync, causing you to click and think you're selecting one item when you're really selecting another. This causes a huge problem when you're selling off stuff, because you can accidentally sell off a beloved gun. The selling interface lets you mark items, similar to how you can in an MMO, but marking something as a "favorite" is meaningless in the game. Unlike an MMO where it will often prevent you from selling or dropping a favorite item, there is no such protection in Borderlands 2. I don't think these problems will be addressed anytime soon, as some have said they were in the game from the beginning.
Okay, so that's the game. What design lessons can we learn?
How I remembered the first game
A funny thing happened along the way: I forgot what the first game was like. I played Roland, the Soldier in the first game. In the sequel, I originally played Salvadore the Gunzerker, but I wanted to play around with other characters and started playing Axton the Commando. Axton's power is the ability to summon a turret, similar to Roland's power in the first game. It seemed comfortable and familiar…
…until I went back to play the first game a bit. Boy, was it ever different! The turrets work very differently. First, Roland's turret is directional, whereas Axton's turret can aim and fire in any direction. Axton's turret lasts a lot longer than Roland's turret did, making the new version feel a lot more like a consistent power rather than an "oh, crap!" maneuver.
Another incorrect memory was the scaling. In the original game, your stats increase modestly as you advance. Take health for example: you start at 100 hit points and gain 15 more every level. With skills and equipment, the theoretical maximum health total is 2676 at level 69. Borderlands 2, however, increases stats exponentially. Characters start with 90 hit points, but at level 50 you can have a theoretical maximum of 88,668 (as a Siren character)! A bit of stat inflation. What this does is make it so that guns become a lot more obsolete as you level because they won't be able to do nearly enough damage.
The last thing I misremembered was the way the weapons were presented. In the original Borderlands, the guns were presented in a different way. Every gun having a number as part of the name, making them feel more like randomly generated items. Borderlands 2 did away with this, giving the names more aesthetic names; in fact, some of the voice recordings you find in the second game talk about the strategy of the Hyperion company's naming of weapons.
What's also interesting is what was added or lost in each description. In the first game, almost all the stats were available in the inventory "card". In the sequel, some stats, particularly scope zoom, are not included in the gun information. You can a comparison in these images: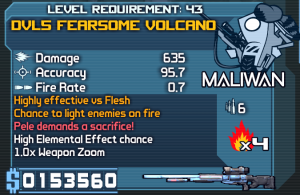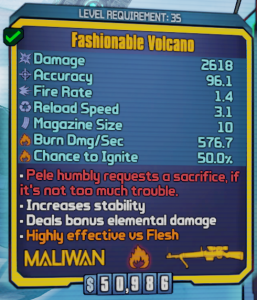 These pictures show the a named weapon with the same name in Borderlands (left) and Borderlands 2 (right). Note the differences in levels and damage in particular.
You can see what data is present in one version but not in the other. Stats that were present in each game are shown or hidden. Scope zoom information was lost in the newer game, but the elemental effect was made more explicitly clear rather than the opaque (FIREx4).
But, let's take a bit closer look at what these guns make in a larger context of the game. Time to talk about…
Loot!
As I mentioned, one of the pillars of what makes the Borderlands games interesting is the randomized loot. This is familiar to anyone who has played a Blizzard RPG, notably Diablo or World of Warcraft: items drop with random attributes and rarities. Rarer items are generally more powerful. Borderlands also has some named loot from quests.
The specific loot system they use is interesting. Items are made from components, and each component affects the stats of the weapon. In addition, these components also affect the visual look of the weapons. This means that there are a ton of different guns, and you're not likely to see the same gun twice in a session.
Add in different quality levels (white, green, blue, etc. like in MMO gear) and you have the foundation of a really varied loot system.
Now, I appreciate a good random loot system. I designed one for The Fae's Wyrd flash game I helped develop a few years ago. If done well, it adds a lot of variety to the game.
Why does random loot work so well on game players? The Psychology of Games blog covered this well in article an article on random loot in WoW and Borderlands. Basically your brain likes to try to figure out when you are rewarded, so you get a little neurochemical jolt when something random happens in order to keep you going at your task to try to figure out the pattern. However, game design is a fragile thing, and an article on Diablo III shows how you can actually make the loot less appealing.
One potential problem is that if all loot is random, it can feel meaningless. Borderlands 2 gets around this by having a few very special "named" items that drop randomly (but with a higher probability on certain enemies) and have specific major abilities in addition to a bit of randomness. These named weapons tend to be a cut above the random stuff that drops off standard monsters, even the good stuff. These named items allow you to create a plan to obtain that item by "farming" a certain monster if you really want a specific item. It provides a little bit of a pattern to the otherwise random nature so your brain doesn't give up once it recognizes that everything is just random.
What does it all mean?
Overall, I enjoyed Borderlands 2. I played through the main quest and all the available DLC. I've been playing multiplayer with a friend, which has been fun. But, I don't feel the burning need to keep playing the game through a second playthrough on my single-player character. One of the disadvantages of a set story and linear gameplay is that there's very little opportunity for variety. Eventually doing the quests in the game feels very much like going through the motions rather than exploring a world.
But, hey, at least there were a few game design lessons along the way. :)
What do you think? Do you like randomized loot? Or do you prefer to focus on specific items to obtain?
---
---
4 Comments »
Leave a comment