7 May, 2012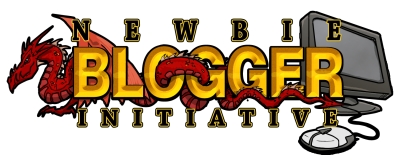 I'm going to claim that I'm fashionably late to the Newbie Blogger Initiative. To be fair, I've been busy. So, I'm going to cheat a bit, ignore the rules, and jump right into offering advice. :)
So, what does make your blog special?

Why blogging is important
The first question you might ask is why blog? In this age of Twitter, Facebook, and even Google+ who nobody but us really awesome people use, it seems blogs are an outdated medium. I think it's a fair question.
To me, there are two main reasons. The first is community. I think Tesh really nails it that there's a feeling of camaraderie between bloggers. I've met a lot of people at conferences and conventions mostly by virtue of being a blogger. I've exchanged a number of emails with Tesh directly, in fact, mostly because we were both bloggers.
The other major reason is permanence. Want to know what I've written about permadeath? It's easier to use the search box over to the left there than to search through the detritus I've left on Twitter. A lot of social networks seem transitory; I don't have control over them as much as I have control over my own blog on this site. Google+ might shut down tomorrow, but my blog will remain online as long as I have any say over it.
My advice for newbie bloggers
So, what advice to I have for people who want to follow in the illustrious footsteps of existing bloggers? Find your own voice. Sounds cheezily generic, but it's true. I'm not the fairy godfather who can help you find your voice, unfortunately. The best I can do is describe what I've done.
The first unique element is who I am: I'm an MMO blogger, but I'm also an MMO developer. I'm also an avid MMO player, so I've seen things from all angles. I believe that a lot of people have come to my blog in order to get my insight because I'm a developer and I write from that perspective most of the time. I have a hint of why some decisions are made; although I rarely have any special insider information, I do have insight to share to give a glimpse from behind the curtain.
The second thing relates to what I said above about permanence: I treat my blog as a serious repository of information. When I write a blog entry, I do so with care. When I write about a topic, I always go back and use that search function to find out any related topics. I take care to link back to previous posts, so that I can show some context. Maybe my opinion has changed, maybe something important has come up since then. I take particular pride in all my older post as I view them as important. It's one reason why, no matter how much I might use Twitter or Google+ for a while, I still come back and post on my blog. Anything I see as truly worth saying I say on here.
The third is my style of writing. I try to be conversational. I try to be a little funny; stuffy, formal writing about MMOs would be boring. I also try to be smart; I enjoy writing and try to play around with words a bit. I like to think that all these factors make my blog entries fun to read.
Fourth, I love interacting with people. I've said it before and I'll say it again: the comments are my favorite part of my site. I know what I'll say, but it's the insightful comments that really make posting worthwhile. I usually try to end my entries with a question to spur discussion. I take time to respond to most comments people post, if I have time. It takes more time, but it makes the site so much more useful for me, and I hope for others.
Why not have fun?
My last bit of advice: don't sweat about how often you post. Many times newbie bloggers will post frequently at first as their ideas come out in a rush. Pace yourself, because eventually that rush will not come quite so freely. But, once the rush slows happens it's not time to panic. At one time people did visit sites from a list of bookmarks or from memory, and sites that didn't update got ignored. But, these days pretty much any serious blog reader will use an RSS reader. Even after weeks of silence, a single post with light up RSS readers. So, don't be afraid your site is dead if you can't post as frequently as you once did. Hell, if slow posting killed sites, my irregular posting schedule would have killed my site long ago. :)
In the end, you probably blog because it sounds fun. So, don't forget to have fun. Write what you want, find your voice, find your audience, and enjoy yourself. Is there much more you can expect from life?
What do you think? What makes a good blog? What keeps you coming back to a site? Why haven't you donated to the Storybricks Kickstarter project yet? (Okay, you knew I had to sneak that in here somewhere…. ;)
---
---
23 Comments »
Leave a comment