24 March, 2011
A lot of times people bash on the fantasy trope of the "chainmail bikini" as being too prevalent. Not only is it impractical, but it's also sometimes insulting to women who want to play strong female warriors.
Just in case you think this is a made up problem, allow me to show you a screenshot from Dungeons & Dragons Online. Two dwarves, one male and one female, who used the exact same armor appearance kit preview that adjusts based on the type of armor you wear (and obviously the gender of the character).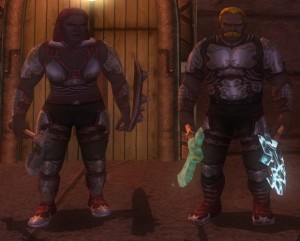 (Apologies for the mediocre lighting. Click on the image above for a larger version.)
So, which one is the Paladin in full plate mail and which one is the Ranger in a mithral breastplate? Hint: Rangers dual wield.
Really, Turbine? A platemail bikini top? This experiment was run after our elven rogue guild leader was trying out some appearance kits that left no doubt the amount of hair she might have beyond what's on her head.
Seriously, guys. Some people believe that it's important that armor cover areas besides just the breasts. Guess it's that +2 distraction bonus to AC, eh?
---
---
21 Comments »
Leave a comment