11 October, 2010
So, what's happening at Psychoavatar? As I mentioned, we're working on an RPG in a month for October. So, I figured I'd do a "developer's diary" type entry. Won't be daily, but I figure a few postings to give a glimpse at what an accelerated development schedule looks like might be interesting. Not that I shouldn't be working on it instead….

First some organization
One of the first things I did was to settle out tasks between us and set up some tools to help. Dave is working on the visual part of the game, I'm doing the behind-the-scenes gameplay stuff, Kat's working on tiles and logos, and Sara's doing player and enemy art. I also set up email addresses for us on the psychoavatar.com domain, and set up a wiki to organize planning for the game. (I've actually been holding on to the psychoavatar.com domain for a while.)
I'm pretty old-school in my design style, so I started with Word documents. I've slowly grown to accept wikis as an alternative, but there's still some problems with them. The biggest is that there is a mild level of technical proficiency required, which can discourage people from using it. But, it can also make changes to the system easier than passing around a Word document if you have multiple people who need to edit the same document. Wikis do seem to be more useful as the team grows, so I guess using a wiki for a team of four people shows some optimism in that I hope we'll grow from here.
The next choice was which wiki software to use. I settled on WackoWiki because it's fairly lightweight. It also has a few nifty features, like "clusters" (which I just call subpages) that help make organization easier. It also has an editor to help you with syntax, even though it isn't quite WYSIWYG as WikiMatrix claimed it was. Overall, I think it's working well.
Now for some design
The next step is to figure out how much of an RPG we can make in a month. I pretty much took charge here since I'm going to be doing the behind-the scenes work. I came up with an informal list of features I wanted, including:
A party of characters
Randomized levels
Randomized loot
A simple set of spells
Then I set about fleshing out some details. One goal is to separate out the core design and implementation from the data that keeps it interesting. So, for example, I might detail a system where weapons have "ranks" to determine their power and how weapons can have randomized bonuses (so you can get a "short sword of Fire" instead of a normal short sword), but I'm going to wait to define all of those bonuses until the infrastructure is in place. I've also prioritized the features, so if time runs short we can decide to cut something.
I also wrote a very brief "backstory" for the game. Nothing epic, just something to explain why you're trudging through the dungeon to no certain end.
A question of art
Given that we have a month, a fully realized 3D world ain't happening. Not that you could do that in Flash very well, mind you. So, there has been some discussion about what style we want to use. We've settled on a faux-8-bit style. Something a bit more colorful than the true 8-bit games, perhaps comparable to the older version of Spelunky. This is good because it allows the artists to crank out a good variety of art, but it still appealing to more modern tastes.
We're also working on some logos. You can see a preliminary logo for Psychoavatar on our website. Thanks to Kat for throwing that together quickly.
Added: Here's some early art concepts from Sara Pickell: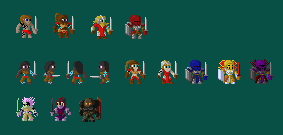 Current status
So far, things seem to be on track. Dave has completed some random level generation and a basic loading screen. You'll also note that he's working on a second game by himself, truly earning the "psycho" part of the company name for himself.
Art is being produced. Sara has created several variations for the player art: male and female, different types of armor, etc. Kat has also created a tileset we can use to create initial dungeons. Lots more art to work on here.
As for me, I finished the design last week and started working on the gameplay code. My goal is to get the basic infrastructure done this week, spend next week inputting data and tweaking gameplay to get a good game, then get something playable by the 24th. I'll probably post a call for testers on here and on my Twitter feed, so it might be a good time to start following me.
Other information
Can't get enough information about game development? Take a look at the competition site. Lots of interesting projects going on, with some people posting a lot more often than I do. (You can also see the brief posting I made about the game on the site.)
Anyway, feel free to post questions in the comments if you have any. I'm not giving away too many details about the game yet since there's still a lot to do and some stuff might get cut. But, it's not like you'll have to wait a long time to play it unless things to horribly off-track.
---
---
10 Comments »
Leave a comment